How to Lose Weight by Walking
You can lose weight by walking, depending on how long you walk and the intensity involved.  For you to get the most from your exercise, your intensity must either be moderate or at a vigorous level. The more intense and longer, the more calories you burn and thus the more weight you will lose.
Therefore if you are determined to reduce weight by walking, I can assure you that it is very possible and practical. If you do brisk walking for 30 minutes daily, you can burn around 150 calories in a day. So if your plan is to lose a pound in a week, you should aim at burning 500 calories in a day.
Lose Weight Gradually - Avoid Overdoing It
Balance is very important in weight loss. If you overdo any exercise, you risk getting burnouts, injuries and soreness. To avoid these, start your work outs slowly and increase gradually.
When people overshoot fitness goals, they get injured and this may even stop their weight loss plans. Overdoing any exercise will not produce faster results. 
Start exercising with less vigor and gradually build upwards to moderate and then vigorous exercise.
The Power in Walking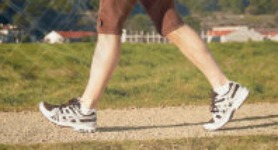 Although many people prefer running, the power of walking is friendlier to joints than running. When walking, one foot is usually in contact with the ground.
However during running, there is usually a float stage in which the whole body is raised in the air. While coming back down, you subject your body an impact –that is based on your body weight.
This is why walking is the best long term plan for weight loss. To get the most out of this, here is a trustworthy guide;
Do speed walking for 30 minutes, three days every week. You can complete the half an hour time at once, or split it into manageable shorter time portions in between.
It is also necessary if you so wish to consult your doctor or a fitness expert, who can help you to lay down a reasonable weight loss goal with your whole body in mind. This will help you avoid overdoing your workouts thus avoiding stress, burnouts and unnecessary injuries.
Keep it simple and remember that losing weight does not need to be complicated or costly. I assure you that you can lose weight using a home based exercise plan. The important issue is to establish consistency and commitment to your weight loss plan.
After you have lost weight, you should not stop exercising. Exercise will monitor and keep your weight off. Studies show that people who lose weight and maintain it over time have a routine of daily exercise and physical activity.
Lastly, do not go into exercising so much and forget to eat healthy. Healthy eating must always be observed for you to successfully achieve your weight control goal.
Therefore keep walking and ensure that you eat a healthy diet.
Return from Lose Weight to Weight Loss Exercise

Return to Nutritional Supplements Home Page